Book Cablogin Studio
Cablogin Calendar
Check availability for The Cabin below. Unfortunately we have no availability at the moment for the Shepherd's Hut.
Check: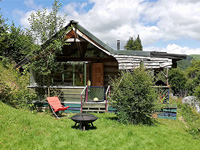 Cablogin Studio
How to Find Us
If you are coming from Newtown turn right at the level crossing to Caersws.  Turn left to Trefeglwys in Caersws, past the station and continue to Trefeglwys where you need to turn right to Llawryglyn on an awkward bend.  Continue through Llawryglyn for about a mile and you'll come to a steep downward hill with a sharp left bend (you'll know it!).  The house is in the V following where you need to pick up the keys.  Ignore the satnav if it tries to take you up the road past the Raven's Retreat sign to the centre of SY17 5RP.
If coming from Rhayader direction head for Llanidloes and turn left at the roundabout into Llanidloes and then take the third exit off the next roundabout over the bridge and turn immediately left to the Clywedog B4518.  Follow this road for four miles to the viewing point over the lake and take the right turn signposted Fan 3 miles just after.  Follow this road for a mile and take the left hand road just past a small converted chapel.  This takes you down through the wood to Raven's Retreat. Continue up the road to the right to pick up the keys from the house (aerial view under Prices).
You will be sent more detailed directions by email when you book with us.
Cablogin Studio and Ravens Retreat Prices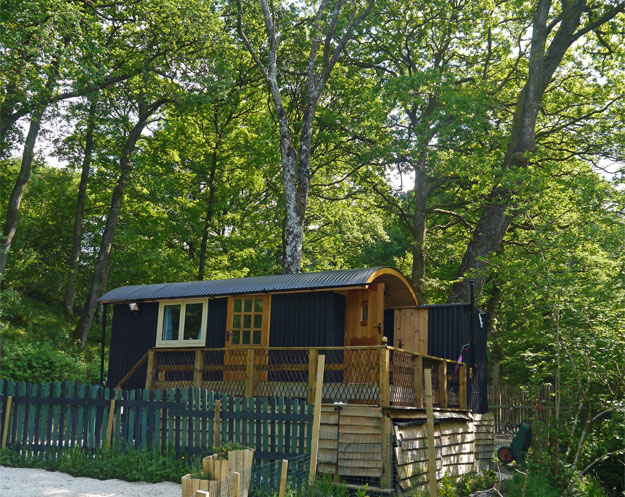 Raven's Retreat shepherd's hut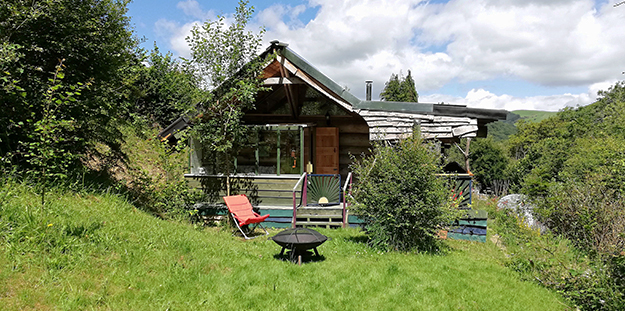 Cablogin Studio, a log cabin is also available for larger parties of guests
Prices include :
"NEW" Double cereal/sweets/dog biscuits dispenser. Name your choice of goodies!
o FREE tea and coffee and biscuits and coffee percolator
o FREE dog biscuits
o FREE bedding and towels
o FREE dog treat toy
o FREE high speed WiFi
o FREE basket of logs (£5.00 thereafter)
o FREE electricity
Free copy of "A Vision of Wings" or "Celtic Wings of Gold" both written by Sue
CABLOGIN STUDIO (minimum 3 nights)
1 – 4 £120 per night
5 – 6 £108 per night
3 nights = £360
4 nights = £480
5 nights = £540
6 nights = £648
7 nights = £715
EXTRAS Breakfast hamper (continental style) £7 per person or £12 for 2
Dogs - £10 per stay or £15 for 2 per stay (depending on size!)